News
27/01/2017

The Armenian-French cooperation is expanding in the field of Information Technology and Computer Science
A meeting was held in the National Academy of Sciences (NAS) amongst the representatives of the Toulouse Institute of Computer Science Research (IRIT), Toulouse (France), the of the French Embassy in Armenia and the French University in Armenia and the specialists of the Institute of Informatics and Automation Problems of NAS (IIAP) and the International Scientific Educational Center (ISEC).

The main objective of the meeting was to strengthen the relations already acquired, to discuss the activities of joint projects, to propose new ideas and identify opportunities to implement them.

The Vice-President of the National Academy of Sciences academician Yuri Shoukourian presented the trends in development of informatics and NAS experience in International Cooperation in Computational Science. He especially emphasized the cooperation with the French Educational Institutions for many years. The Vice-President of NAS RA touched upon the development of Scientific and educational fields and the need for training of scientific personnel.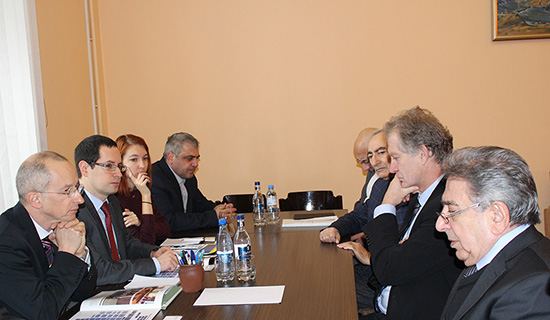 The Councilor for Cooperation and Cultural Action of the French Embassy in Armenia Mr. Alex Bortolyan expressed his satisfaction with the present collaboration and possible new developments.

The Rector of French University in Armenia, Professor Jean-Mark Lavest described the preparatory work done at the University on informatics and statistics. He emphasized the need for joint activities aimed at training of young professionals.
The Rector of the Toulouse Institute of Computer Science Research, Professor Michel Dayde and the Director of IIAP, Dr. Vladimir Sahakyan indicated the effectiveness of long-term cooperation in the domain of high performance computing, summed up the results of educational projected carried out in recent years.

Dr. Pierre-Henry Cros (IRIT), Dr. Hrachya Astsatryan (IIAP) and Prof. Albert Sargsyan (ISEC) presented the opportunities for future cooperation in frames of Horizon 2020 and Erasmus.
A memorandum was prepared between NAS RA and French Universities for the implementation of new Projects.

The Information-Analytical Service of NAS RA
27.01.2017
Latest Announcements
Publications in Press
23/06/2020

medialab.am
06/06/2020

azg.am
04/06/2020

hraparak.am
01/06/2020

ankakh.com
26/05/2020

aravot.am
22/05/2020

golosarmenii.am
This site has been visited
2 598 949
times since 01.01.2005