With the support of the RA Ministry of Education, Science, Culture and Sports, the Institute of Arts of the National Academy of Sciences of the Republic of Armenia has issued the first volume of the three-part textbook "History of Art. Fine arts".
The author of the textbook is professor Ararat Aghasyan, doctor of arts, corresponding member of NAS RA, the director of the Institute in 2003-2022, currently the scientific head of the Institute. The textbook was published within the framework of the program of the RA Ministry of Education, Science, Culture and Sports "Development and publication of educational-methodological literature for music and art schools" and is intended for students and teachers of art and fine arts schools while studying the subject "History of Art".
"The textbook was created on the initiative of the RA Ministry of Education, Science, Culture and Sports. For the first time in the Armenian reality, it was planned to create an Armenian non-translated educational manual covering the general history of fine arts. The importance of this initiative is obvious, since acquaintance with fine arts has to start at school and continue in secondary and higher education institutions. In order to have an educated generation with high artistic taste, appropriate textbooks and training manuals in native language are crucial," said Ararat Aghasyan, the author of the textbook.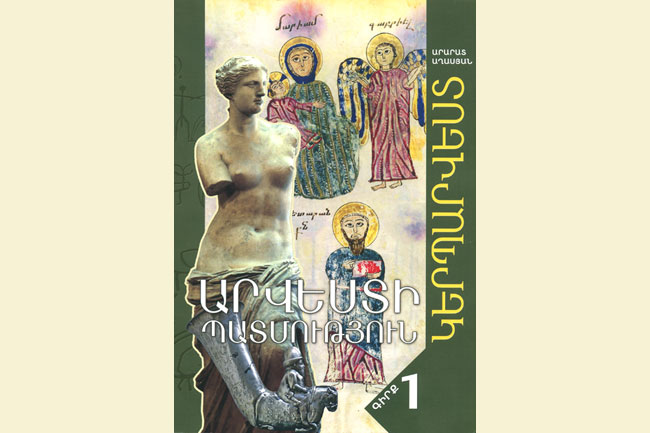 The first volume of the textbook covers the history of fine arts from prehistoric times up to the period of European Renaissance. Fine art is presented in chronological order, starting from the prehistoric period up to the Gothic period, referring also to Armenian fine art in the context of world fine art.
"We have not had an Armenian dictionary of artistic terms since today, so we have tried to partially solve that problem as well. The dictionary of the textbook clarifies the terms related to fine arts, decorative-applied arts, architecture, the sense and the meaning of religious and mythological characters and symbols, allegorical expressions originating from mythology," said Ararat Aghasyan.
There are about 280 color illustrations in the textbook, which make the narration more comprehensible and contribute to the formation of children's aesthetic taste. Using the barcode indicated in the margins, you can watch about 80 educational films, animations, expert lectures in Armenian and Russian languages on YouTube. The films provide information about Armenian and world art, culture, certain monuments, outstanding masters, historical eras, different countries and nations, mythological gods and heroes, historical figures and royal dynasties.The second volume of the textbook presents a brief history of fine art from the European Renaissance up to the beginning of the 20th century. Armenian fine art has also been considered in that context.
The second volume will be published by the end of 2022.
Ararat Aghasyan is currently working at the last, third volume of the textbook.