In 2018-2021 the Seed Bank of Armenian Flora of the Institute of Botany after Armen Takhtajyan NAS RA participated in the implementation of an international research project "Enhancing rural Caucasian community livelihoods through fruit and nut conservation" in cooperation with the environmental and agricultural Nature Heritage NGO, the Millennium Seed Bank of the Royal Botanic Gardens, Kew, Great Britain, the National Botanical Garden of Georgia and the Institute of Botany of Georgia. The project was financed by the "Darwin Initiative" fund.
Within the framework of the project, the following was implemented:
studies of fruit&nut species populations and threat assessments
ethnobotanical studies on use of fruit and nuts
ex situ and in situ conservation in communities
research on plants and their seed viability, variations and genetic integrity.
A significant proportion of plant species was found to be in need of improved conservation.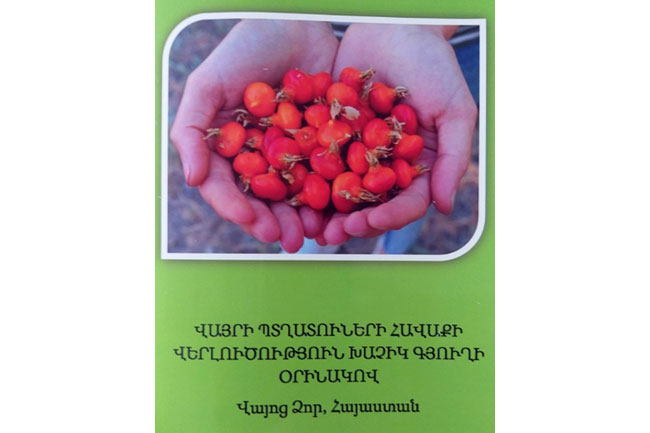 The core of the project was the development and improvement of the economic situation of the rural communities of Armenia and Georgia through conservation and sustainable use of fruit and nut species. Trainings were conducted in the communities on the botanical wealth of the area, plant species, their benefit and maximum sustainable use without disturbing natural ecosystems. The seeds of endangered and economically significant species available around the communities were collected and stored in the Seed Bank of Armenian Flora of the Institute of Botany after Armen Takhtajyan NAS RA for ex situ conservation.
In total, seed collection of 61 species from 80 populations was carried out, incl.: genera Rosa, Rubus, Ribes, Pyrus, Sambucus, Amelanchier, Berberis, Crataegus, Cotoneaster. One Masters Student was included in the working team per each country. They were provided with appropriate material-and-technical base by financial means of the project, conducted genetic studies of target plants and were trained for 2 weeks by the best experts of the laboratories of Royal Botanical Gardens, Kew.
The results of the research were published in the brochure "Analysis of wild Fruit&Nut harvesting by the example of the Khachik village, Vayots Dzor, Armenia", the co-authors of which are: Nersesyan A., Papikyan A., Hakobyan E. (Yerevan, Limush publishing house, 2021).