"Cyanobacteria, or blue-green algae, are a large group of prokaryotic gram-negative bacteria that carry out photosynthesis, releasing molecular oxygen as a result. These microorganisms, as well as green single-celled microalgae, are considered to be one of the promising sources of lipids and have great potential for their use in bioenergetics. Biofuel based on cyanobacteria, unlike other sources of energy, is one of the most environmentally friendly renewable resources," said Vigen Goginyan, the scientific leader of the research, the head of the Laboratory of Alternative Energy Sources of the NAS RA Scientific and Production Center "Armbiotechnology", candidate of veterinarian sciences.
He mentioned that as a result of the general microbiological analysis of the freshwater samples of Lake Sevan, dominant species of cyanobacterial strains were found: Microcystis sp. Pc-001 and Pc-002, Anabaena sp. Pc-004 and Pc-007, Synechococcus sp. Pc-003, Phormidium sp. Pc-005 and Oscillatoria sp. Pc-006. By means of gas-liquid chromatographic methods the fatty-acid composition of synthesized lipids has been revealed.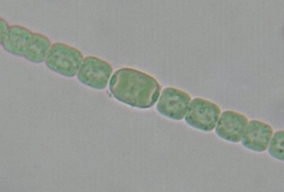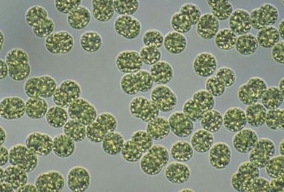 a b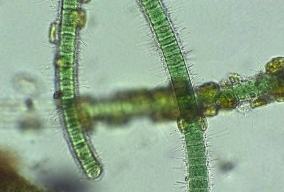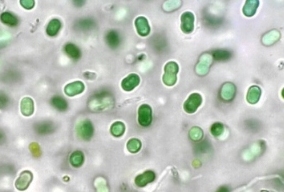 c d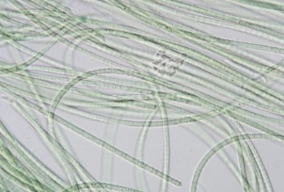 e
Types of cyanobacteria isolated as a result of the study: a - Anabaena sp., b - Microcystis sp., c - Oscillatoria sp., d - Synechococcus sp., e - Phormidium sp.
"According to the research results, the synthesis of palmitic acid and monoene palmitoleic acid prevails in all studied cultures of cyanobacteria, and their higher concentration was found in Microcystis sp. Pc-001 culture - 16.89% and 22.28%, respectively. In addition, this strain has a large amount of heptadecenoic acid (17.99%), stearic acid (7.01%) and monoenoic docosadienoic acid (6.25%) with an almost equal ratio of saturated and unsaturated fatty acids (46.55% / 46, 52%).
We have shown that the lipids of the studied cyanobacteria usually contain fatty acids whose chain length does not exceed 18 carbon atoms, except for the strain Microcystis sp Pc-001, which synthesizes quite a large amount of docosadienoic acid C22:2n6 (6.25%).
It can be concluded that cyanobacteria, as well as microalgae, can be considered as a rich source of fatty acids and an alternative source of energy," said Vigen Goginyan.
Cyanobacteria are able to produce other valuable biologically active compounds much faster and in large quantities. "Preparations based on these microorganisms, as a rule, have versatile effects and low cost of production. In nature, cyanobacteria are always found in a form of coexistence with other bacteria, and this provides an opportunity to create artificial associations that will be endowed with beneficial and desirable biological properties," noted Vigen Goginyan.
The research was carried out within the framework of the State Budget of the "Armbiotechnology" Scientific and Production Center. Baghish Haroutyunyan, a researcher of the Center, candidate of biological sciences, Lusine Saghatelyan, a junior researcher, have participated in the research work.